Communication Strategy
Workshop
Communication Strategy Workshop
Create a communication strategy that will connect with your audiences, show them the value of what you do, and help you grow.
---
Communicate your value
Your communication goals are an important part of your business' success, because communication goals support business goals. Whether you want to drive adoption of an open-source application, increase awareness of your product, acquire more customers or convert leads, your communication strategy gets everyone pulling in the same direction.
Perhaps you don't know how to communicate the business value of what you do to potential buyers. Perhaps you are so focused on the technical implementation that you can't get a strategic view on how to communicate. We can help you!
Our structured set of tools, which together make up the Strategic Framework, make communication clear. Underpinned by the Value Map, which is a prerequisite for this workshop, a Communication Strategy will empower your team to tell a consistent story about your product, using authentic communication principles of clarity, empathy, and trust.
Workshop tl;dr
What: Create your communication strategy to enable your team to tell a consistent story about your product and show the value of your product.
How: We share our tools and processes to create a thematic, time-bound, multi-channel plan, covering campaigns and content pieces relevant to your organization.
Who: Teams who have technical expertise but limited capacity for marketing.
Takeaways: You'll have a clear plan of your strategy, the content assets, the schedule, and the execution.
Your workshop experience
This workshop steps participants through the components of the Strategic Framework within the OSP toolset that are most relevant to you.
We strongly recommend completing your Value Map prior to this workshop.
We start off by articulating your vision, and defining your organisational and communication goals.
Then we move on to your target audience. We look at the attributes of the industries and organizations you communicate with, and we identify the personas you communicate with in those organizations.
We take a look at your buyers' journeys. What are their needs at each point of their customer journey with you?
We spend time focusing on the importance of trust and vibrancy. We pinpoint the relevant trust signals for your product and organization, and we look at how well you may already be performing across those signals.
Then we will be in a position to articulate your strategic narratives. These are the evergreen themes and topics that you'll be aiming to tell continuously over time, that express your core value and market differentiators.
Next we move on to looking at communication channels and creating an assets plan. We discuss which channels are relevant for you, which ones are the priorities, and the types of content assets you should create.
Finally we arrive at the Communication and Editorial Plan. We create a thematic, time-bound, multi-channel plan, covering campaigns and content pieces including: themes, personas, pain points, and calls-to-action.
This is an intensive workshop, requiring full commitment from participants. Each piece in the Strategic Framework could be a workshop session in its own right. Visiting each step of the Framework in this session leads to a valuable output, a tangible communication plan for your team.
Workshop outcomes
At the end of this workshop, you'll know who you'll be talking to, why, through which channels, and when.
You'll have:
A short-term plan for immediate execution.
A long-term vision of organizational goals.
Everyone on the same page communicating the value of what you do.
A clear plan of the strategy, the assets, the schedule, and the execution.
You'll be fully enabled to execute on your strategy internally, or you can work with us to achieve the goals you've set yourself!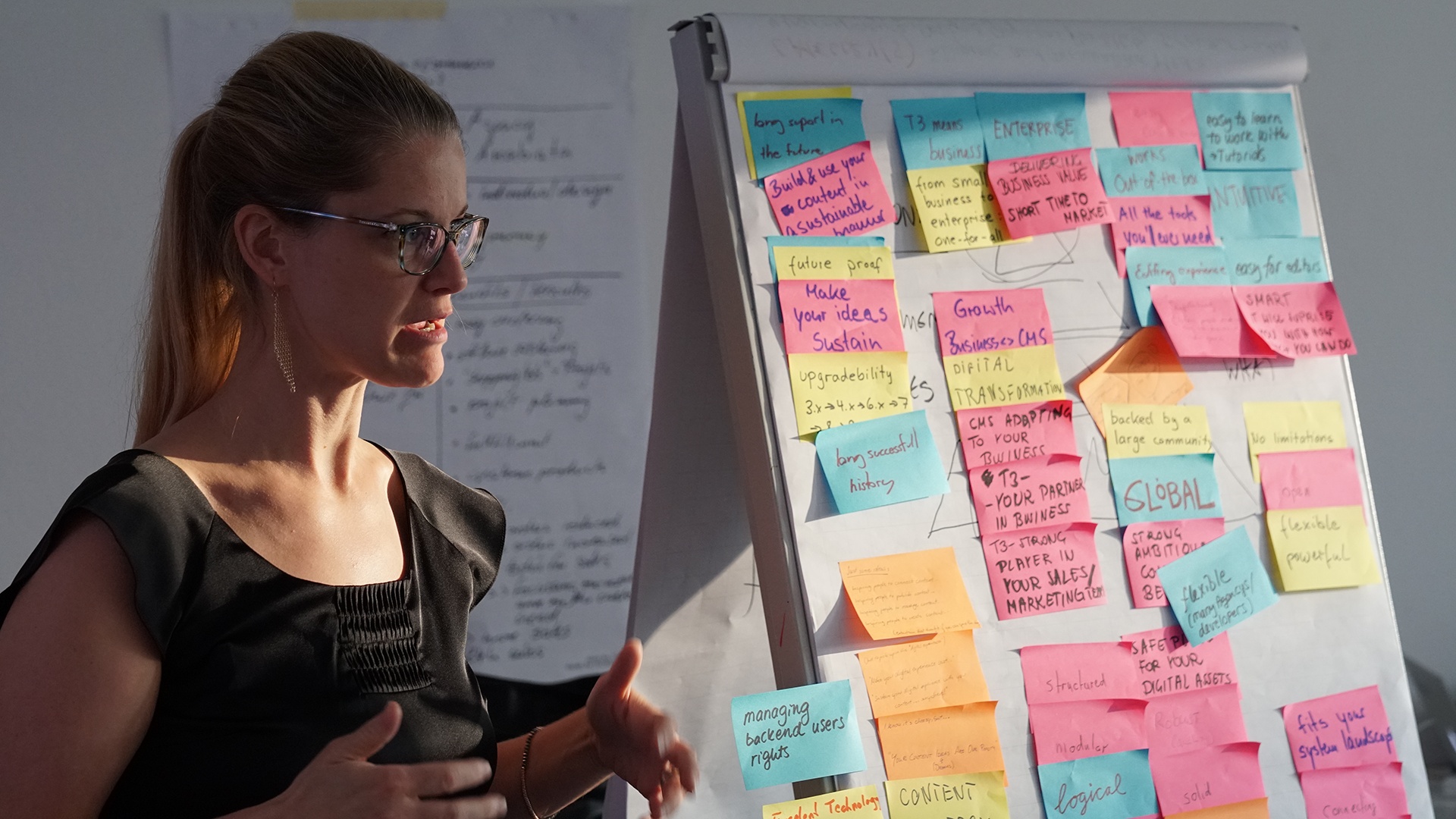 Who is this workshop for?
Technology companies who have complex technology solutions and need to expand their marketing bandwidth and need a fresh strategic perspective.
Small teams, start-ups, or project teams ... without a dedicated marketing function.
Teams focused on technical implementation.
This workshop is ideal for small to medium groups of mixed disciplines—this really helps inspire more comprehensive thinking and clearer ideas.
Workshop formats
We can arrange practical workshops and content sprints online or in-person for a variety of group sizes from small to large. Tailored to your needs and goals, they can run from one to five days in length, for example as a series of 90-minute or half-day workshops, plus individual breakout sessions.